I received an email from "ICANN" claiming that my domain requires IMMEDIATE VERIFICATION, what should I do?
If you've recieved an email with the subject "IMMEDIATE VERIFICATION required for yourdomainname.com", do not just ignore it, it may be a very important email that requires action on your end to prevent your domain name from being suspended.   The Internet Corporation for Assigned Names and Numbers (ICANN) has mandated that all ICANN accredited registrars begin verifying the WHOIS contact information and has begun suspending domains that have not been verified.  Verification is done by clicking on the verification link that was sent to the "registrant contact" email address associated with the domain.  Here's how to tell if the email is legitimate:
If we are your registrar the ICANN verification email will be from:   donotreply@name-services.com  

The email will look like this: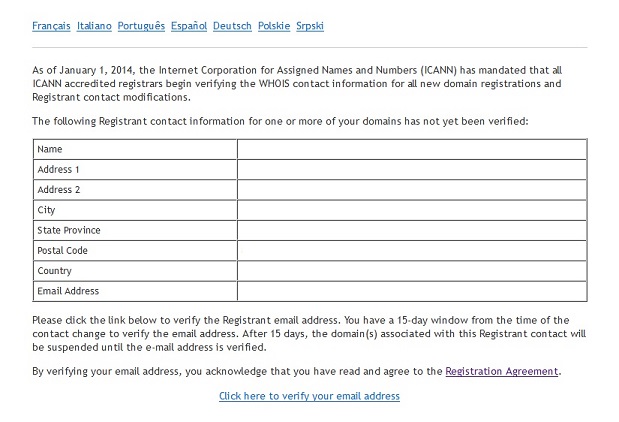 All you need to do is click on the link that says "Click here to verify your email address".  This will verify your identity and domain ownership and prevent your domain from being suspended.
As always if you have any questions or are unsure if an email that you receieved at is legitimate, please contact BrownRice support at:  support@brownrice.com