How do I transfer a domain name to brownrice?
 If you want to transfer your domain registraton to Brownrice to manage, follow the below steps. 
Owner of domain must have access to their current domain registration account.
1. The domain owner must unlock the domain and "request transfer authorization code". This is done via the current registrar account and can only be requested or done by the owner of the domain.  
2. Also note that domain owner must have access to the existing email address on file for the domain account owner. If the email address on the domain owner's contact information isn't correct then it must be updated via the current registrar account, prior to requesting the transfer authorization code (also known as the EPP key.)
3. The transfer authorization code is emailed to the domain owner's email address. Keep the code handy as you'll need it in the next steps.
4. Login to https://dashboard.brownrice.com with a Brownrice billing email address and click Domains. 

5. Then click on Transfer Domain to Brownrice.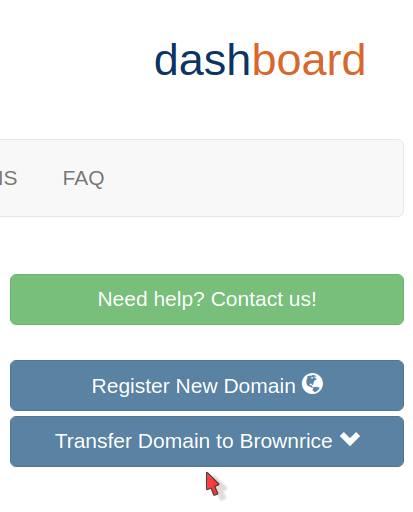 6. Enter the Transfer Authorization Code into the EPP Key field, and the Domain Name, without the www into the Domain Name field.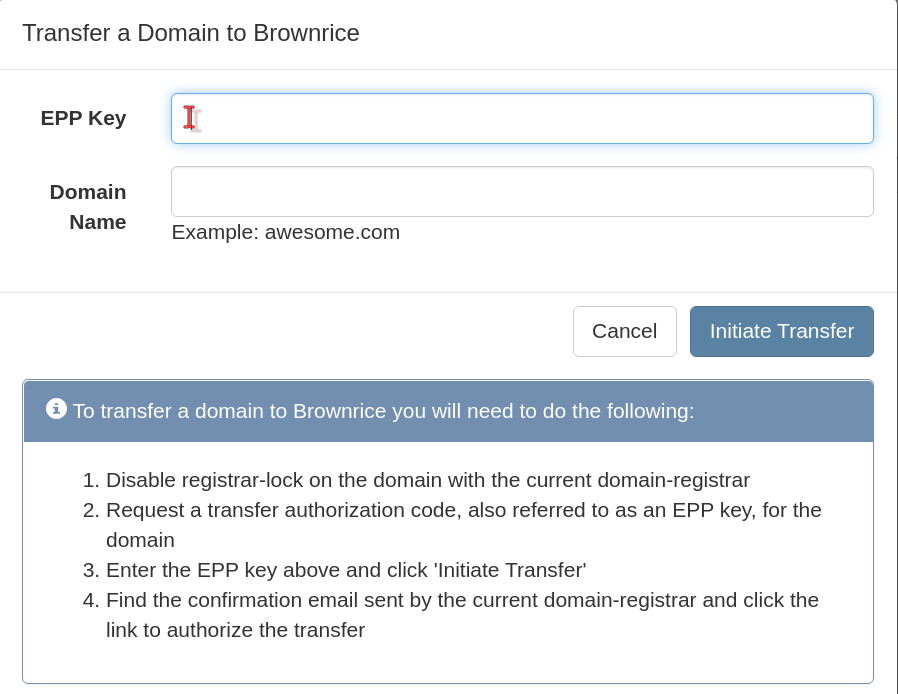 7. After clicking the Initiate Transfer button the existing domain owner will receive an email from the old registrar (usually within 24 hours) asking them to approve the transfer by clicking an approval link.  Follow the instructions and do so.  Once done the transfer can take up to 5 days to complete.
8. You'll receive email communication from Brownrice when the transfer is completed and the domain is in your account or if there are any issues with the transfer.